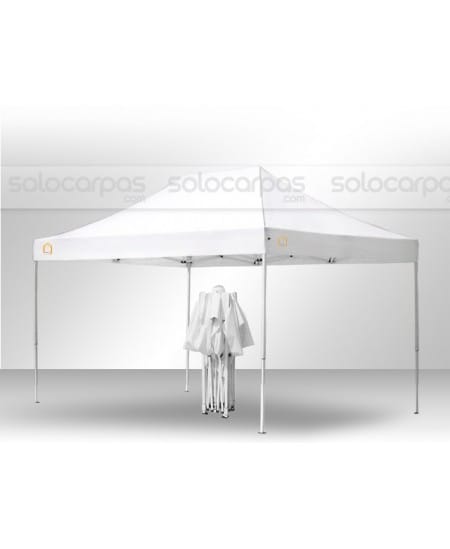 View larger
Puedes pagar tu compra con:
Folding tent CarpaPro Basic 2x3 m
desde
237,15 €

tax excl.
279,00 €

tax excl.
-15%
New product
Precio por unidad
Folding tents CarpaPro ® Basic 2x3 m white. Deployed in just 30 seconds!


Warning: Last items in stock!
Availability date:
Enable Follow
Descargas
Folding tent CarpaPro Basic CarpaPro of 2x3 m
Lacquered aluminum frame white.

35 feet x 35 mm (top) and 30 x 30 mm (bottom) of

1,5

mm thick.
Rib structure 13 x 25 mm with

1,5

mm thick.

Joints in cast aluminum high quality.

ExtraTex ® Expert 300 gr/m² Polyester Fabric white, 100% waterproof.

2 people can assemble in just 30 seconds!

Folded packaging measures 165 x 33 x 28 cm.

Weight 30 kg. approx.
Manufacturing time with modular customization: 20 days, without personalization immediate delivery.
Todo ok

María Luisa I. on 18/06/2018

Económica, enseguida te haces con ella para abrirla y cerrarla muy facil. Hasta la fecha todo bien, la he llevado a varios mercados ya y todo ok.
Calidad increible

María Jesús G. on 07/03/2018

Esta muy bien de precio para la carpa que es, estoy muy contenta con la compra, no se si habrá una gran diferencia con alguna de mayor calidad como la CarpaPro Classic pero se subian ya mucho de precio y no se si compensaba, la carpa es de una calidad increible.
Buena carpa recomiendo

Laura C. on 28/07/2017

Precio y calidad muy buena, recomiendo buena carpa
Carpa plegable "BBB"

Amparo E. on 18/05/2017

Si buscas carpa plegable para mercadillo esta es tu carpa.
Gran carpa plegable

Joaquín V. on 13/03/2017

Piezas de unión de calidad, acabados top, una carpa plegable con calidades CarpaPro a buen precio.
Excelente carpa

Oriol C. on 17/09/2016

El servicio por solocarpas.com muy bien y el envio muy ràpido.
PERFECTO TODO

CARMEN A. on 08/06/2016

PEDIDO EN NUESTRO ALMACÉN EN 48H DESDE QUE HICIMOS EL PEDIDO, CALIDAD DE LA CARPA SORPRENDENTE TANTO EN ACABADO DE LA CUBIERTA COMO PIEZAS DE UNION, LA FUNDA DE TRANSPORTE INSUPERABLE, MUCHAS GRACIAS POR VUESTRA COLABORACION
Todo genial!!!

Nuria B. on 03/06/2016

Buena carpa plegable, esto si que es una carpa plegable de verdad y no lo que teniamos antes, y el envío rapidísimo. Genial!
muy buena relacion calidad precio

ignacio n. on 04/05/2016

el pedido me llego muy rapido, sorprendido con la calidad de las carpas por ese precio, os recomendare
Excelente producto y servicio postventa

Óscar A. on 13/03/2016

Somos clientes desde hace muchos años, a destacar la excelente calidad de estas carpas y la posibilidad de poder comprar la cubierta o piezas en caso de rotura, el servicio posventa es muy bueno, nosotros estamos encantados y la funda de transporte es de buena calidad no es la tipica bolsita para cumplir que hemos visto en otras carpas
Garantía de calidad y precio muy competitivo

José C. on 01/10/2015

Poco nuevo diremos de CarpaPro que no se sepa, siendo pioneros en esto y empresa nacional, sin sorpresas. Si buscas buenas carpas profesionales con buenos precios esta es tu tienda y tu marca.
Satisfecho con la compra

Rafael M. on 30/09/2015

Satisfecho con la compra. El pedido llegó muy rápido en dos días, bien informado y sin problemas. 100% recomendable
Fenomenal

Lucía S. on 13/06/2015

Esta carpa plegable esta fenomenal!!!
carpas economicas para mercadillos

Antonio R. on 05/03/2015

despues de comprar las 2 carpas os pedi las bases de cemento, muy contento por el servicio
CUMPLE LAS ESPECTATIVAS

JOSEFA O. on 02/03/2015

CARPA PLEGABLE QUE CUMPLE LAS ESPECTATIVAS. POR MENOS DE 300€ ES LA UNICA CARPA DEL MERCADO CON 2MM DE ESPESOR Y CON PIES DE 35MM Y CON LA GARANTÍA DE CARPAPRO POR CONFECCION ACABADOS, CALIDAD DEL HILO, FUNDA DE TRANSPORTE PROFESIONAL Y EXCELENTE SERVICIO POSTVENTA
Excelente

Alvaro E. on 19/11/2014

Producto y atención excelente. Gracias por la colaboración. Un saludo desde Málaga.
Valoración muy positiva

Oscar Dario G. on 08/07/2014

Mi experiencia en general con las carpas CarpaPro Basic de SOLOCARPAS.COM hasta el momento ha sido muy positiva, no he tenido ningún inconveniente y la valoración es totalmente positiva
muy pro en carpas

juan r. on 29/05/2014

el nombre les viene al pelo, con más de 15 años de experiencia y pioneros en estas carpas ves el producto y te das cuenta de lo PRO que son, sin ir más lejos ahora mismo te puedes encontrar el mercado inundado de carpas de precio similar pero de muy inferior calidad, o por otro lado carpas con un poquito más de calidad pero precio disparado o directamente el doble, somos varios compañeros los que tenemos CarpaPro Basic y estamos encantados
Pedido carpas plegables para mercado ambulante

Laura V. on 15/03/2014

Compramos 10 unidades de este modelo de carpa porque teníamos buenas referencias de solocarpas.com, la calidad del producto es excelente, tanto por las piezas de unión como la calidad de la cubierta y se nota que los pies son de 2mm de grosor interior, muy baratas y con una empresa nacional detrás con servicio post-venta para cubiertas y partes de la estructura, estamos encantados con nuestras carpas, muy recomendable.
pedido de carpa plegable CarpaPRO Basic

Favio L. on 01/04/2014

gran relasion calidad y precio, carpa plegable profesional para mercadillo, dudamos entre la de 3x3 y esta de 3x2 y nos decantamos por la de 3x2 porque en algunos mercados no podemos pasarnos de 2m. Exselente servicio por solocarpas.com la carpa viene muy completa con instrucsiones en castellano y garantia de 2 años