View larger
Puedes pagar tu compra con:
Maestro Parasol (Telescopic)
desde
1 125,00 €

tax excl.
tax excl.
New product
Precio por unidad
Production time 15 days
Parasol Maestro of Sunbreta® series manual opening with TELESCOPIC opening system. Why Sunbreta parasols are the best selling nationwide? Look for and compare: Craftwork and first quality materials, WITHOUT SUPPLEMENTS in price for special color structures or in PVC fabrics. You will not find a parasol of this quality at the best price on the market.


Warning: Last items in stock!
Availability date:
Enable Follow
Maestro parasol with TELESCOPIC opening system

Ø 70 mm mast painted white aluminum.

Opening drive with internal automatic telescope.

With 8 ribs 20 x 40 mm.

No flap.

Fabric Acrilic or PVC in various colors.

Does not include base, buy it separately.

Colors PVC fireproof M2
PVC 580gr, select color in order.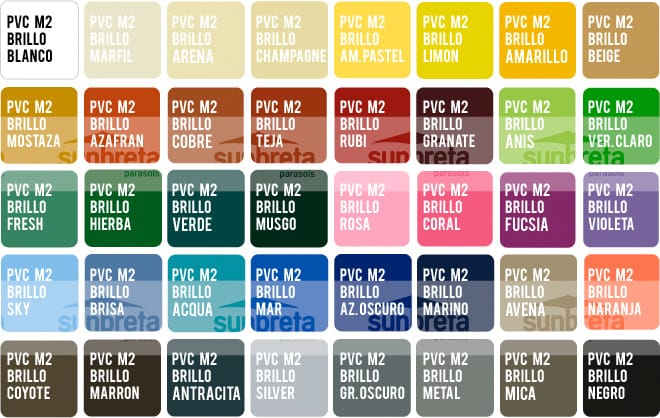 Colors RAL for frame
Frame in color white, if you like another color please put in the order process. 5-10 more of production.

Resistencia y calidad acabados

Fernando H. on 21/01/2019

Espectativas superadas. Buen precio, máxima calidad. Me permite plegar los parasoles sin tener que apartar las mesas, acabado de la confección de primera calidad, se ven muy resistentes.
destacaría la buena calidad

pablo v. on 10/04/2018

buena calidad de materiales buena resistencia. se abre y cierra muy rápido
MUY CONTENTA

CONSUELO V. on 28/03/2018

MUY CONTENTA CON EL PARASOL CUMPLE CON LO QUE ESPERABA
Parasoles muy fuertes

Manuel P. on 26/01/2018

Buen servicio, entrega en plazo estimado. Producto de excelente calidad, los parasoles son grandes y muy fuertes.
Robusto frente el viento

Jordi G. on 11/12/2017

Una maravilla de parasol para hostelería, aguanta muy bien el viento ni se inmuta. Envio rápido en el plazo indicado y perfecto.
Buen parasol precio calidad

Luis P. on 11/08/2017

Este parasol cumple con su función, estoy muy satisfecho con él para el uso en hostelería.
Compra de parasoles para hostelería

Juan F. on 02/08/2017

Sencillamente genial, muy buen precio para ser un parasol de esta calidad, esteticamente muy bonito, y el acabado bajo mi punto de vista son de 10
PERFECTO, RECOMIENDO

SERGIO C. on 06/07/2017

MUY BUENA COMPRA.. UN BUEN PARASOL PARA HOSTELERIA
parasoles de alta calidad para terrazas

jesus m. on 06/04/2017

excelente calidad del producto, el accionamiento es sencillo con una varilla que trae el parasol, el mastil es telescopico y el plazo de entrega no muy largo y que cumple lo mas importante, la buena calidad tanto de la confeccion la estructura y los acabados. 100% recomendado
Compra 2 sombrillas Maestro

Concepción A. on 25/01/2017

Sombrillas profesionales para cafeterías de calidad, entrega en plazo, recomendable..
Pedido sombrilla profesional

Antonio R. on 12/12/2016

Compramos una sombrilla MAESTRO de 3,5x3,5 m para la terraza del bar, optamos por el telescópico para no tener que apartar las sillas y mesas al cerrarlo y la inversion vale la pena, vaya cambio en mi terraza, ademas resiste bien al viento, gracias por todo.
Garantía. Calidad y a buen precio

Alberto G. on 24/09/2016

Conocimos los parasoles Sunbreta por la etiqueta cosida de unos parasoles que nos encantaron en un Parador, tenemos una cafetería y ya nos tocaba dar el paso de poner por fin unos parasoles de verdad, estudiamos el catálogo y compramos dos maestro de 3x3 Mt. El envío fue rápido cumpliendo el plazo de su fabricación, la instalación fácil y el precio muy por debajo de parasoles de iguales características, además empresa de aquí y con atención al cliente por mail excelente y rápida, estamos encantados muchas gracias y sin duda os recomendaremos.
PARASOL FUERTE Y A BUEN PRECIO

FRANCISCA P. on 30/07/2016

ESTE MODELO DE PARASOL SUNBRETA ES UN PARASOL FUERTE, QUE ROMPE EL MERCADO POR SU PRECIO COMPETITIVO Y CON LA SERIEDAD Y GARANTIA DE SOLOCARPAS.COM, ENTIDAD SERIA Y CON GRAN SERVICIO POST-VENTA
Muy contentos con nuestros super parasoles

Carmen C. on 11/07/2016

Les conocí a traves de buenas referencias, es una buena empresa, con articulos de calidad a buenos precios, gestion muy buena de pedidos y rapidez en la entrega, hasta ahora muy contentos con ustedes.
Compra de 4 parasoles Maestro

Domingo O. on 08/07/2016

Encantados con nuestros 4 parasoles de aluminio Maestro, recomiendo estos parasoles tanto por la confección, los refuerzos y los accesorios, vino todo montado, solamente tuvimos que atornillar las bases al suelo con 4 tornillos para cada una, fue hacer el pedido y en un par de semanas teníamos nuestra terraza vestida y lista para trabajar, 100x100 recomendable.
Compra sombrillas

Elena S. on 04/05/2016

Satisfecha al ser telescopicos no tienes que apartar las mesas al cerrarlos. Sombrillas de buena calidad y precio razonable
Era lo que buscaba

Samira L. on 12/11/2015

Está muy bien calidad y precio, hicimos el pedido de 3 parasoles para nuestra terraza con base para empotrar, la instalación de las bases nos la hicimos nosotros mismos en una mañana. Empresa muy seria y profesional se percibe la experiencia con en el producto, además con servicio postventa para reparaciones, miramos mucho y parasoles del estilo en otros proveedores subían entre 800 y 1200€, más no podemos pedir, totalmente recomendable.
lo recomiendo

José Antonio L. on 30/09/2015

todo un acierto haber comprado este parasol. envio puntual y le hemos podido colocar unos cortavientos. fantastico muy satisfecho
FANTASTICO

JOSEFA C. on 25/09/2015

BIEN POR RELACION CALIDAD PRECIO. MIRAMOS MUCHOS FABRICANTES POR EL PRECIO DE ESTE TIPO DE PARASOLES PROFESIONALES. SI QUEREMOS ALGO DE CALIDAD QUE NO SEA CHINO ESTE PARASOL ES LO MAS BARATO Y CON MEJOR CALIDAD QUE PUEDES ENCONTRAR. ADEMAS EMPRESA ESPAÑOLA CON BUEN SERVICIO POSTVENTA
parasol estupendo cumple con las espectativas

Juan Manuel M. on 19/06/2015

lo compramos para el bar con dos cortinas para el viento el envio ha sido rapido. estos parasoles al ser telescopicos van bien porque al cerrar no pegan en las mesas. todo bien buena compra y buena relacion calidad y precio
Entrega dentro de plazo y bien

Nuria S. on 12/05/2015

Entrega rapida y parasoles con materiales muy buenos, con paredes laterales nos han quedado mejor de lo esperado, los usamos a diario por trabajo y estamos encantados, aguantan muy bien el viento.
Parasol de primera calidad a buen precio

Antonio F. on 07/04/2015

El parasol llegó en perfectas condiciones, bien embalado, muy rápido y cumple todo las características, compramos una base para empotrar, una vez instalado ha quedado perfecto.
Compra parasoles para cafetería

Luis M. on 22/02/2015

Compramos 3 parasoles Maestro/Sunbreta el año pasado, ahora hemos comprado los cortavientos para hacer una especie de cerramiento parcial y todo lo que puedo opinar es positivo, el servicio postventa excelente nos atendieron muy bien por cuando hicimos la consulta por email para añadir los cortavientos a nuestros parasoles. El envío se retrasó un par de días porque estamos en una zona un poco apartada, pero se solucionó rápidamente. Lo único que para lo que cuesta podría venir con una funda, aunque hemos consultado y puedes comprarla por separado bajo presupuesto, el resto perfecto.
EXCELENTE

MIGUEL D. on 05/02/2015

EXCELENTE PRODUCTO PARA USO PROFESIONAL. ACABAMOS DE INSTALAR 2 PARASOLES MAESTRO DE 3X3 CON PAREDES Y NOS HAN QUEDADO ESPECTACULARES. PRECIO MUY COMPETITIVO EN COMPARACION CON OTROS Y FACIL INSTALACION
TODO BIEN

ALEJANDRO V. on 16/11/2014

CONTENTO EL PRODUCTO ES TAL Y COMO SE DESCRIBE, VIENE BIEN EMBALADO Y SOLO HAY QUE ABRIRLO Y COLOCARLO. ES UN PARASOL MUY REFORZADO Y AGUANTA BIEN LOS GOLPES DE AIRE POR AHORA NINGUN INCONVENIENTE
Muy satisfecho

Juan Francisco G. on 01/11/2014

Este parasol profesional de Sunbreta está realmente bien por el equilibrio que ofrece entre su calidad y precio, teniendo en cuenta que es un parasol profesional enfocado a la hostelería y de fabricación nacional. Está muy por debajo en precio que parasoles de otros fabricantes con mismos grosores de mástil y varillas, los 70 mm de mástil central van perfectos si tu parasol es de 3x3 m como es nuestro caso, para medidas superiores que requieran también paredes imagino que sería mejor el modelo SunPro que es aún más reforzado. Elegante y fácil de abrir y cerrar, entrega rápida y buen servicio.
Pedido sombrillas con cortavientos

Germán U. on 05/07/2014

Buen producto y Servicio muy rápido dentro del plazo de fábricación. Diseño y componentes excelentes. Buena relación calidad/precio.
Recomendable 100%

Mari Carmen A. on 27/05/2014

Realizamos el pedido de 4 parasoles Maestro telescópico para nuestro restaurante, gracias por acelerar la entrega y tenerlos para el día de la inauguración, aquí hace mucho viento y estos parasoles ni se inmutan, empresa seria y muy profesional, 100% recomendable.
Pedido de parasoles para restaurante

Jordi S. on 20/05/2014

Empresa muy seria y profesional, los plazos de fabricación cumplidos, alta calidad del producto y al mejor precio que encontré en toda la red, al venir montado y perfectamente embalado solamente tuvimos que instalar la base y cologar los parasoles. Llevamos muy poco con ellos pero por ahora estamos muy contentos, sinceramente vale la pena la inversión, muy contento con la compra ya que ofrece una relacion calidad-precio que otras marcas de parasoles no son capaces de ofrecer. Cumple todas las especificacines que se muestra en las características destacando alguna más como son los refuerzos en las costuras con una acabado excelente en la confección.
una maravilla de parasoles para hostelería

marisa e. on 08/03/2014

tras cerca de un mes ya puedo opinar sobre estas malas bestias de parasoles. tienen una relación calidad/precio brutal que sólo solocarpas.com puede dar. en otros sitios un parasol de similares características de calidad se iba a 1000€ más. tiene todo lo que se le puede pedir a un parasol profesional para hostelería, mástil de 70mm y brazos muy robustos, me lo pedí con la base para atornillar en el suelo y compramos 3 paredes cortavientos que están muy bien rematadas y reforzadas, una maravilla.