View larger
Puedes pagar tu compra con:
Parasols Maestro (Double Pulley)
desde
914,00 €

tax excl.
tax excl.
New product
Precio por unidad
Production time 15 days
Parasol Maestro of Sunbreta® series manual opening by double pulley. Why Sunbreta parasols are the best selling nationwide? Look for and compare: Craftwork and first quality materials, WITHOUT SUPPLEMENTS in price for special color structures or in PVC fabrics. You will not find a parasol of this quality at the best price on the market.


Warning: Last items in stock!
Availability date:

Read the 11 reviews
Average rating:

9

/

10

- Number of reviews:

11
Enable Follow
Maestro parasol with double pulley

Ø 70 mm mast painted white aluminum.

Opening drive with a double pulley.

With 8 ribs 20 x 40 mm.

With fireplace off the air.

No flap.

Acrylic Fabric 300 gr. or PVC Available in various colors.

Does not include base, buy it separately.

Colors PVC fireproof M2
PVC 580gr, select color in order.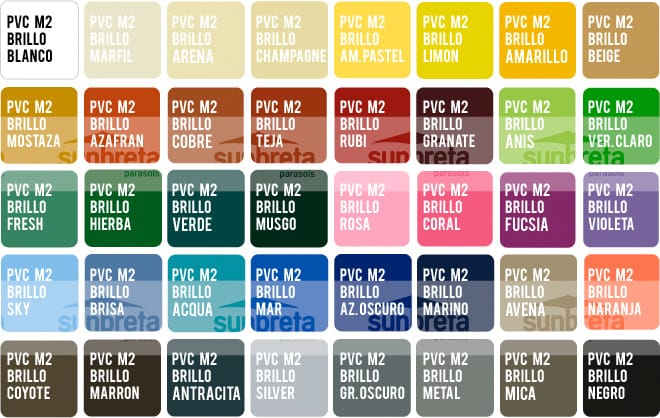 Colors RAL for frame
Frame in color white, if you like another color please put in the order process. 5-10 more of production.

Genial

Raúl J. on 27/06/2018

Genial todo lo que esperaba y más, la primera impresión muy buena pero con el uso es aún mejor este parasol. Destaco la gran relación calidad y precio.
Perfecto para nosotros

Jesús M. on 15/05/2018

Para mi negocio elección perfecta. Buen tamaño, buen producto, aguanta bastante viento sin inmutarse, perfecto.
Buen parasol para uso presional

Antonio C. on 29/06/2017

Espectacular, me encanta. Te da una sensación de estar debajo, la terraza del bar parece otra.
Parasoles de muy buena calidad

Juan Carlos R. on 11/10/2016

Nuestra experiencia con estos parasoles es totalmente positiva, algunas de las cajas llegaron algo rascadas por el meneo del transporte pero por dentro todo intacto, calidad del producto excepcional buen precio y envío antes del plazo!!
Absolutamente recomendado

Juan S. on 31/07/2016

Todo perfecto. Poco más podemos añadir de esta gama de parasoles. Absolutamente recomendable. Aguanta rachas de viento sin inmutarse. Como siempre el servico de solocarpas.com y Sunbreta excelente.
CONTENTISIMOS

PEDRO H. on 23/03/2016

NOSOTROS TAMBIEN NOS HEMOS PILLADO EL MAESTRO DE POLEA. ESTAMOS MUY CONTENTOS CON LOS PARASOLES. CALIDAD MUY BUENA CON EL PRECIO TODO PERFECTO
Envío rápido y muy profesionales

Claudia M. on 07/11/2015

Rapidos profesionales y una pagina web muy facil y descriptiva. Los parasoles nos llegaron dentro del plazo establecido, perfecto embalaje y listos para abrirlos y ser utiliados. Lo único que debes preocuparte es por la instalación del tipo de base que hayas escogido en los accesorios, nosotros compramos las bases para que se tienen que atornillar y la instalación fue de lo más fácil. Calidad del producto insuperable, muchas gracias por la colraboración.
Os he recomendado

María Teresa L. on 12/05/2015

Bueno, en general estoy muy satisfecha con vuestros parasoles e incluso ya os he recomendado
Relación calidad precio inmejorable

Ada M. on 07/02/2015

Parasol profesional capaz de soportar paredes laterales, perfilería reforzada con buenos acabados y tejido de gama alta, al mejor precio del mercado teniendo en cuenta que es un producto fabricado bajo pedido y con un servicio postventa de garantías ofrecido por una empresa nacional, estamos muy contentos con la compra y sin duda os recomendaremos.
Recomendable

Enrique C. on 01/12/2014

Acabo de comprarme este parasol hace apenas una semana que llego y todo bien. se abre y se cierra con la polea mecanismo simple pero fiable. lo mas importante son los 70mm de mastil y las buenas costillas de 20x40 junto con el tejido acrílico para uso profesional. buena calidad porque le puedes poner paredes y ni se inmuta y al mejor precio del mercado ahora mismo. muy recomendable
Excelente

Jaime P. on 06/11/2014

Encantados con el producto, relación calidad precio. buen funcionamiento. compramos el normal de polea porque nosotros apartamos las mesas y las apilamos dentro del bar por lo que no necesitamos el telescopico. calidad excelente y muy buen precio, el tejido de la cubierta es de muy buena calidad y ademas bien confeccionado, visualmente es muy bonito, perfecto para uso profesional