View larger
Puedes pagar tu compra con:
Parasol SunPro
desde
1 775,00 €

tax excl.
tax excl.
New product
Precio por unidad
Production time 15 days
Parasol SunPro for professional use. Why Sunbreta parasols are the best selling nationwide? Look for and compare: Craftwork and first quality materials, WITHOUT SUPPLEMENTS in price for special color structures or in PVC fabrics. You will not find a parasol of this quality at the best price on the market.


Warning: Last items in stock!
Availability date:
Enable Follow
Acrylic fabric series umbrellas various colors
Ø 90 mm ​​mast painted white aluminum.

Opening via screw system (wireless)-powered telescopic handle.

With 8 ribs 20 x 40 mm.

With fireplace off the air.

No flap (optional).


Flap with personalisation needs add 5-7 days for production.

Acrylic Fabric 300 gr. Available in various colors.

Does not include base, buy it separately.

Colors PVC fireproof M2
PVC 580gr, select color in order.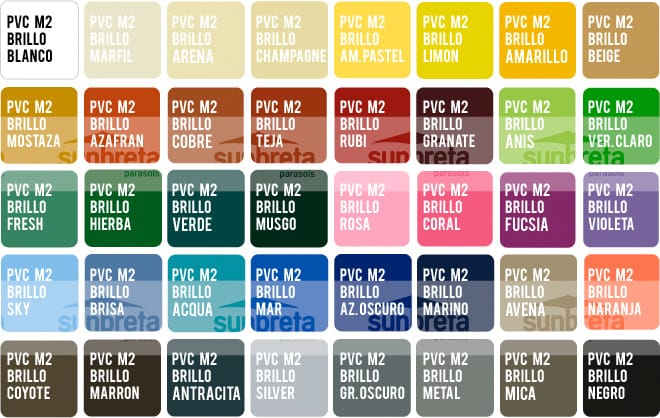 Colors RAL for frame
Frame in color white, if you like another color please put in the order process. 5-10 more of production.

Excelente para uso profesional

Pedro C. on 28/01/2019

Después de "bichear" mucho por internet y haberlo probado en un bar que tienen 3 SunPro... creo que es realmente la mejor opción en sombrillas profesionales relación calidad/precio
Parasol muy resistente

Antonio R. on 30/11/2018

Un parasol excepcional, materiales muy resistentes y buena relacion calidad precio
excelente

marta p. on 09/11/2018

excelente producto, es estable, robusto, la lona de alta calidad, llevo varios meses con este parasol en el bar y va excelente, es sencillo y bonito a la vista
Lo aguanta todo

Raquel V. on 16/05/2018

Calidad precio buena, es la mejor sombrilla para trabajar, te olvidas lo aguanta todo
Robusto y elegante

José Antonio P. on 08/05/2018

Me parece un parasol para hostelería espectacular y muy resistente. Recomendado 100%. La calidad de los componentes de Sunbreta es excelente en relación calidad y precio
Muy buen parasol profesional

Elena G. on 14/01/2018

Compramos 2 de 5x5 m y estamos encantados, aguanta las ráfagas de viento. Parasol muy robusto y resistente, recomendable 100%
MUY BUENOS PARASOLES

PABLO P. on 13/12/2017

VENIMOS DE UNOS PARASOLES BARATOS Y LA VERDAD QE AL CAMBIAR A ESTOS PARASOLES LA TERRAZA PARECE OTRA.SIN DUDA LOS RECOMIENDO Y AGUANTAN DE SOBRA EL VIENTO NI SE INMUTAN
Parasol excelente para hostelería

Juan José M. on 19/10/2017

Un parasol que es una joya para quienes quieran un parasol para hostelería de calidad para trabajar.
Compra de parasol para terraza

Miguel G. on 29/08/2017

Un parasol enorme (4,5x4,5) y muy robusto, justo lo que buscábamos. Se ha servido dentro del plazo estimado, de momento todo perfecto.
PARASOLES PARA HOSTELERIA RECOMENDADOS

Ana C. on 24/05/2017

Buscábamos unos parasoles profesionales de grandes dimensiones para nuestra terraza y hemos elegido la gama Sunpro por ser la más robusta y reforzada.Estamos encantados con la compra. totalmente recomendable
PEDIDO PARASOLES TERRAZA SUNPRO

MARIA NIEVES G. on 20/03/2017

BUENA CALIDAD DEL PARASOL, MUY REFORZADO PARA USO PROFESIONAL..COMUNICACION PERFECTA Y PLAZO DE ENTREGA CUMPLIDO, SIN DUDDA MI MARIDO Y YO OS RECOMENDAREMOS.
EXCELENTE CALIDAD

JOSEFA C. on 05/03/2017

PARASOLES PROFESIONALES DE CALIDAD EXCELENTE, JUSTO LO QUE BUSCABAMOS, TENÍAMOS UNAS SOMBRILLAS DE CERVECERA CON LAS QUE NO SE DABA LA MEJOR IMAGEN, AHORA PARECE OTRA LA TERRAZA Y CON VIENTO NI SE INMUTAN, SIN DUDA OS RECOMENDARÉ
compramos 2 parasoles para terrazas Sunpro

Gonzalo M. on 13/12/2016

Los 2 parasoles Sunpro han quedado estupendos en la terraza de nuestro restaurante, mi terraza parece otra, plazo de fabricación correcto, atención al cliente muy profesional, envío rápido y bien protegido.
Parasol de altísima calidad, buen precio y envío rápido

Rosa María R. on 19/11/2016

Excelente fabricante y tienda online de sombrillas de calidad, fiable y muy rápido el envio cumpliendo el plazo de fabricación
P arasoles para hostelería

Juan Manuel M. on 30/09/2016

Encantados con nuestros 2 parasoles con cortavientos Sunpro, envío rápido y producto de alta calidad, muchas gracias.
Excelentes sombrillas

Raúl M. on 12/08/2016

Hicimos un pedido de dos sombrillas SunPRO para nuestra terraza de bar, estamos encantados con la calidad del producto, el equipo de solocarpas.com muy amables y profesionales con una atención por email excelente, gracias por todo.
Compra de parasoles para terraza de bar

Ginés G. on 15/07/2016

Compramos 2 parasoles para nuestro bar del modelo Sunpro de 5x5 con paredes cortavientos, las paredes se colocan muy fácilmente con un tipo de ganchito que está pensado para poner y quitar diariamente. envío rápido, muy profesionales, 100% recomendable
Excelente!!!

José Luis P. on 07/05/2016

Uno de los parasoles recibió un golpe en el transporte y nos lo recogieron y repararon rápidamente. Te puedes ahorrar un dineral si lo comparas con otros fabricantes lo único que te tienes que instalar la base, pero no tiene nada si es la de tornillos son 4 taladros. Además del gran servicio post-venta. Parasoles con paredes de alta calidad y con la mejor relación calidad-precio de internet, sin duda os recomendaré.
Pedido 3 sombrillas con cortavientos

Jose Antonio G. on 02/05/2016

Pedido recibido con perfecto embalaje y a tiempo para la inauguración, instalación fácil al venir todo montado solo tuvimos que instalar las bases. Teníamos muy buenas referencias y se han cumplido nuestras espectativas, ahora eseramos que nos duren mucho las sombrillas
Gran relación calidad precio y excelente servicio post venta

Teresa F. on 10/03/2016

Calidad precio inmejorable comparando otros fabricantes. servicio post-venta perfecto. envío súper rápido para ser un parasol fabricado bajo pedido y en general todo excelente
producto correcto

pablo m. on 10/02/2016

envio con retraso de dos dias. producto correcto que cumple con la descripcion
Parasol de hostelería recomendable 100%

Ricardo Á. on 20/12/2015

La atencion al cliente y el servicio estupendo. Parasoles profesionales de calidad a precio inmejorable.
Por ahora excelente

Patricia R. on 02/11/2015

El pedido de los 4 SunPro nos llegó la semana pasada por agencia, todo estaba perfecto. Vale la pena porque es mucho más resistente que el modelo anterior Maestro y más cómodo al ser accionado con la manivela. Es nuestro segundo pedido, compramos 2 para otro hotel que tenemos del grupo y estamos muy satisfechos. Empresa seria con garantía de 2 años y servicio post/venta de primera, si te rompen el parasol o cualquier pieza te la sirven en unos días. Desde mi punto de vita el servicio es excelente por ahora.:-)
MUY CONTENTO

VICENTE N. on 24/07/2015

EXCELENTE RELACION CALIDAD Y PRECIO ESTOY MUY CONTENTO CON LOS PARASOLES. AL SER DE GRANDES DIMENSIONES NO ME LA QUERIA JUGAR Y COMPRE LA GAMA MAS REFORZADA, VALE LA PENA RESISTEN EL VIENTO SIN PROBLEMAS Y CON LOS CORTAVIENTOS TE MONTAS UNA TERRAZA ESPECTACULAR
Pedido recibido sin problemas

Antonia P. on 16/05/2015

Todo perfecto, pedido de parasoles con cortinas recibido muy rápido y sin problemas
buenos parasoles profesionales

juan carlos p. on 24/04/2015

muy contentos con la calidad del producto, plazo de fabricacion cumplido, todo bien
Compra parasoles con cortavientos

Miguel Ángel M. on 16/03/2015

Me decanté por la gama SunPro porque le quería poner cortinas cortavientos, y al ser una medida de grandes dimensiones como 5X5 me aconsejaron que optara por la gama más resistente para no tener problemas. llegó todo con un par de días de retraso pero llegó bien, el servicio de atención al cliente por correo es excelente, la instalación muy fácil, con garantía de 2 años y empresa de aquí muy serios y con amplia experiencia.
Pedido sombrillas para cafeteria

Elizabeth G. on 14/12/2014

Las sombrillas llegaron a tiempo. Destaca la calidad y lo reforzadas que se ven, merece la pena para estar tranquilos con el viento. El envio llego rapido y todo esta bien.
Perfecto

Esteve B. on 15/11/2014

Proceso de compra sencillo y el pedido ha llegado rapidísimo. Compramos 2 parasoles SunPro con paredes, tejido y confección de primera calidad, estructura super reforzada que ni se inmuta con el viento, se nota que el mástil es de 90 mm, empresa seria muy formal y con gran experiencia.
Parasol de excelente calidad

Bernardo V. on 20/09/2014

Compramos 2 parasoles Sunpro de 4,5x4,5. Es la gama más alta del catálogo con un mástil bestial de 90 y varillaje de 20x40mm, te viene con la manivela para accionarlo, la apertura y cierre es comodósima con la manivela y el sistema interno se nota que es de calidad, de momento estamos encantados y esperamos que nos dure muchos años, lo recomendamos.
Todo ok

Augusto G. on 08/07/2014

Todo perfecto, parasoles servidos correctamente y rápida entrega
Recomiendo este parasol

Miguel A. T. on 18/06/2014

Pedido servido a tiempo y todo correcto . Parasol de aluminio para terrazas para recomendar .
Gran parasol para hostelería

Fernando E. on 25/05/2014

Realizamos el pedido de un SunPro de 5x5m con dos paredes, envío rápido cumpliendo el plazo de entrega, todo bien, el parasol llegó correctamente embalado y la instalación de la base fue sencilla.