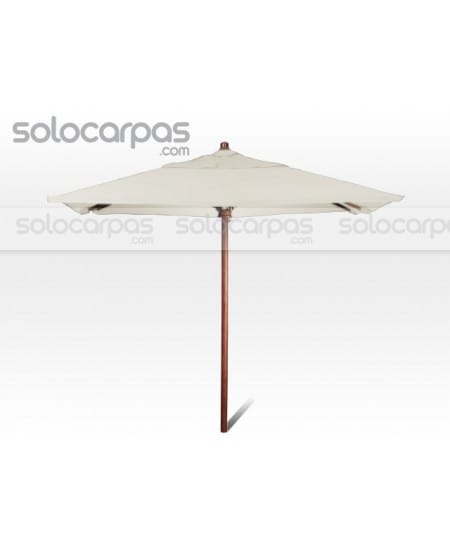 View larger
Puedes pagar tu compra con:
Parasol SunClassic
desde
170,00 €

tax excl.
tax excl.
New product
Precio por unidad
This product is no longer in stock
Wooden parasols SunClassic of SunBreta ® series, polyester fabric 200 gsm, available in several colors.


Warning: Last items in stock!
Availability date:
Enable Follow
Umbrellas Polyester fabric series SunClassic
Wooden structure with outdoor treatment.

Wooden pole 40 and 46 mm in diameter as measured.

Opening via pulley.

With 8 ribs 16 x 27 mm.

With fireplace off the air.

Without skirt (optional).

Polyester Fabric 200 gr / m² Colors Available Reference: P1-P2-P3-P4-P5-P6.

Does not include base, buy it separately.
Buen parasol

Raquel A. on 23/04/2018

Buen parasol y a buen precio para lo que existe en el mercado de esta gama de calidades
GRAN SOMBRILLA

LORENA V. on 20/05/2017

SOMBRILLA DE MADERA DE CALIDAD Y BUEN PRECIO,BRACITOS DE MADERA DE CALIDAD Y EL TEJIDO SE NOTA QUE ESTA FABRICADO BAJO PEDIDO
Parasoles de excelente calidad

Manuel C. on 14/05/2017

El asesoramiento técnico, así como el asesoramiento recibido ha sido excepcional. Parasoles de excelente calidad fabricados bajo pedido como toda la vida se ha fabricado el producto de calidad artesanal. Enhorabuena y muchas gracias.
Muy buena sombrilla, muy contentos

Pilar T. on 14/04/2017

Estoy muy satisfecha con el trato y la profesionalidad del equipo comercial por email. Tambien estoy muy satisfecha con la calidad de las sombrillas. El resumen es que yo y mi equipo estamos muy contentos. Gracias
Contentísimos con los parasoles

Jose C. on 09/04/2017

Los parasoles han quedado impresionantes. Son parasoles de calidad, se nota nada más verlos y es justo lo que buscábamos. Entrega puntual y buen servicio de atención al cliente. Contentísimos.
Encantada

Nuria H. on 06/02/2017

Parasoles maravillosos de excelente calidad,.
Parasoles para cafetería Ibiza

Beatriz M. on 25/04/2016

Parasol con excelente presencia y económico, es nuestro tercer pedido ya pedimos este mismo modelo SunClassic anteriormente para una heladería y restaurante que tenemos, como siempre todo perfecto con la calidad de Sunbreta y Solocarpas.com. El año pasado tuvimos que cambiar una de las cubiertas por rotura al caerle una rama de un árbol, enviamos por mail la copia de la factura de compra y en el mismo día nos enviaron el presupuesto, en fin todo estupendo sin problemas en unos días nos llegó la cubierta nueva, a destacar el excelente servicio post-venta, alta calidad y a buen precio. Muchas gracias
Sombrillas recomendadas

Concepción R. on 08/02/2016

Hicimos una compra de sombrillas SunClassic de Sunbreta porque las vimos en un hostal y nos fijamos en la etiqueta cosida, estas sombrillas son de muy buena calidad, vinierno perfectamente embaladas, el fabricante Sunbreta además de ser nacional te da soporte post-venta para cualquier recambio de cubierta o reparación de la estructura, estamos gratamente sorprendidos y sin duda lo recomiendo.
muy satisfecho

Antonio M. on 30/07/2015

muy satisfecho con este parasol, hay que reconocer que calidad-precio este parasol esta muy pero que muy bien, muy recomendado
BUENA CALIDAD Y BUEN PRECIO

Manuel L. on 16/07/2015

ESCRIBO EL COMENTARIO DESDE MI TERRACITA CON MI PARASOL SUNCLASSIC, FELIZ VERANO A TODOS!!!
Parasol muy logrado

Jesús S. on 08/04/2015

Tiene un acabado muy bonito, también tiene un precio muy económico para ser un parasol de gama media tirando alta real(fuera de este mercado inundado de "productos chatarra", que ahí ni entro ni lo valoro) y unas grandes características como buenos grosores de las varillas, el poliéster es de excelente calidad, nada que ver con pseudo-algodones o poliéster que no duran más de una temporada, además con servicio post-venta oficial de Sunbreta para el recambio de la cubierta o estructura, no me lo pensé dos veces y estoy encantado, si buscas un parasol que se salga de lo normal y a buen precio, aquí lo tienes, sin duda recomendable.
pedido 2 sombrillas sunclassic

Marcela P. on 26/11/2014

mi experiencia ha sido buena, sombrillas de alta calidad y proveedor nacional no me lo pensé, el servicio de SOLOCARPAS.COM excelente, repetiremos
Buena calidad a buen precio

JOSE MANUEL G. on 27/06/2014

Mis parasoles de madera Sunclassic son muy chulos, todo perfecto llegaron perfectamente, muchas gracias
PEDIDO SOMBRILLAS DE MADERA

ELIAS L. on 21/05/2014

SOMBRILLAS DE MADERA DE CALIDAD, ENVIO RAPIDO CUMPLIENDO PLAZO BUEN PRECIO Y EXCELENTE CALIDAD