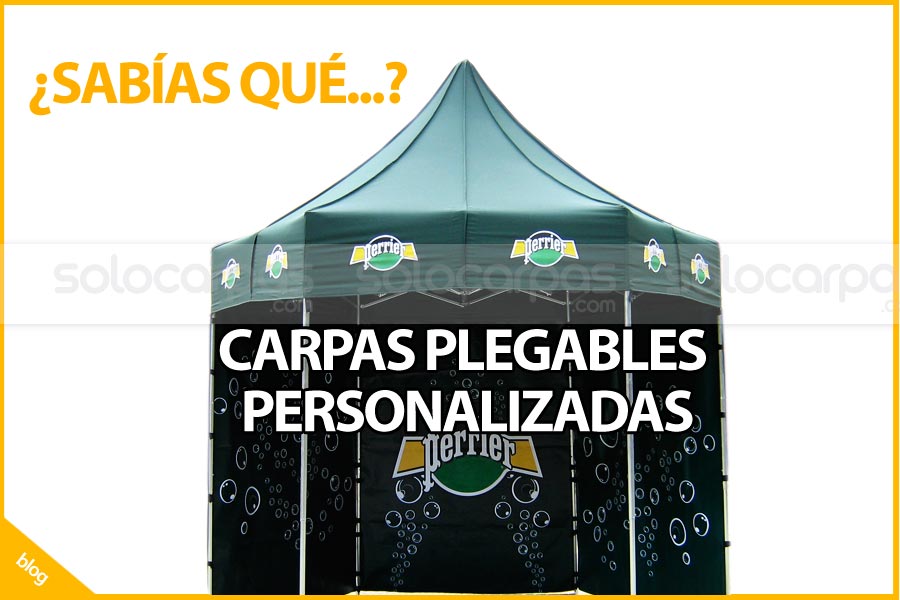 Custom folding tents
Did you know that custom tents achieve a 300% greater visual impact to the public?
The technique: Heat transfer vinyl or high quality sublimation printing?
Customize tent with vinyl : When customizing a folding tent with our logo, design or commercial phrase, we work with a range of different techniques that we can use, since sometimes each design requires a different technique, depending on the number of colors, size, whether they are flat or gradient inks, etc. If the logo has 1 or 2 colors the heat transfer vinyl is an economical and ideal system both in skirt and in dome / water, is subjected to high temperature with our industrial plates of more than 160x100 cm, and the The final result is a single body, as it is welded to the polyester fabric of the tent, guaranteeing the durability of life time that the polyester itself can last.
Customize tent with sublimation printing : Let's start by explaining what sublimation is, with this technique we go from the solid state of a printed design to the gaseous one by plasmizing it to the fabric, without going through the liquid state, this it is obtained by means of heat at 200º and constant pressure. The result is perfect, we guarantee that the design will not be altered by scratches or even by washing, since the design by the process of sublimation has penetrated in the same weave of the polyester fabric. When and how is it done? We printed your design before cutting the pattern, then we made the cover. In CarpaPro (SOLOCARPAS.COM) we work with the latest technology and the best textile machinery for large format sublimation. We only work with high quality polyester fabrics with treatment for folding tents and with more than 230gr / m2. Another advantage that sublimation offers us is that we can print a whole cover or walls of a tent, to any color we want, since we print by CMYK (cyan, magenta, yellow and black), which allows us to offer and enjoy a range of more than 5,000 real colors for your custom folding tent, if your color does not exist in usual polyester, we invented it!
Can I buy the tent and customize it later? It is a bad idea and we will explain why, when a carp has been exposed to the environment, the cover usually has microorganisms and other traces of dirt in its plot, although at first glance we see it more or less clean. The adhesive vinyl by heat transfer is ideal and durable as long as the surface of the fabric is new, without use, if the cover is used the adhesive power of the vinyl would be diminished, and would not gararatizaría the durability of your personalization. Another reason why we do not recommend it, is because you would have to send us the cover, with the cost that entails, looking for someone to personalize it has its risks, it is not the first time that a client buys us a new cover because its signpost has burned the cover, in the attempt to personalize it.
The intention: Greater visual impact
So, what do we get by customizing our tent? Today, most of us and people in general like to differentiate, not dress like others, buy products with a certain personality, the time to consume society also opts for that brand with which you feel identified or simply likes and feels attracted. By customizing our folding tent we can better communicate what we want to project our brand because it creates value, makes us unique and special, increases the degree of satisfaction that the customer experiences if it is a service that we offer, and if it is a product it is directly proportional to the increase in sales, why? for the positive response rate and for generating what is said in marketing brand notoriety.
According to various sociological studies vehicles, tents or personalized clothing, attracts the attention of the human being around more than 300% if they are personalized, with respect to a product & quot; white & quot; without brand. The reason is very simple, our brain is an earthquake of intellectual restlessness, and we love to constantly consume reading and images. For this reason, here are some recommendations for the time to work on the design of our tent:
Colors: When we want to personalize our tent, we assume that the intention will always be to achieve the greatest possible visual impact, according to sociology studies bright or colorful colors always attract much more attention from the observer.
Size of the letter or font: On the skirt we must prepare the design for a height of about 22-25 cm printable approximately, this height will give us
It provides a readable visual impact from a distance of at least 25-30 meters, and a maximum readability distance of about 100-125 meters for the human eye, almost nothing, and what do these technical data tell us? that our custom tent not only makes its tent function, but it is a perfect tool to attract the public and for street marketing events.
Do I personalize the skirt or the dome/waters, or both? Our advice in this case is that the more, the better, not in the sense of more than size but of quantity of modules or positions, that is to say a custom folding tent in skirts will always attract more attention than the one that not personalized, but a folding tent that in addition to its custom skirts and also has logo or design in the upper dome, obviously will impact even more. Neither do we go crazy filling the tent of logos, stamps or commercial phrases, because we will get the opposite effect or visual oppression, most of the customizations of low quality tents or that get the opposite effect to what we want it because we design in the design to show too many things, so many texts will not be read, the crowds will congregate or they will look at the tents with the appearance of first quality and elegant, minimalist, simple and well illustrated designs, the others will be overlooked.
What if I also customize the side walls? More and more customers are choosing to also customize the walls of their tent, the reason is simple if with the cover we have a total visual impact tool, a tent of 3x3 m has 4 screens of 3x2 m where we can label or print the processed photo that we like, incredible do not you think? Imagine yourself in an event with hundreds of people, 3 m wide x 2 m high screen-mode walls with original and surprising designs ... would anyone resist looking at it, or simply approaching snooping? If the budget allows you, do not hesitate for a second!
The decision before buying: Cheap advertising tents or custom professional tents?
At the time of choosing and buy between a cheap folding tent and a custom professional folding tent, we have to take into account the following fundamental factors.
Large folding tents ...? Small folding tents ...? Wait, wait, before we should be clear about what folding tent we want to buy and where. Would you let your charming neighbor of the herbalist or an esthetician? Would you buy your folding tent for professional use to a manufacturer of awnings or tents, or would you opt for a supplier of promotional material? We, we have it very clear.
Currently the market is divided between two large segments, the custom cheap folding tent focused on the advertising world and the custom professional folding tent, this second is the "all life", the quality tent that is manufactured by the manufacturer of awnings or tents. As we said. first we have to take into account a few factors, if the use is going to be punctual for a single ephemeral campaign of 1, 2 or 6 months, or on the contrary, the function and the idea is that the folding tent accompany us for years and years for many events, markets or exhibitions to the public.
If your idea is the second one, forget about the typical folding advertising tent , ¿why? It is so simple because the materials used for its construction were selected and designed to be cheap, not to last, normally they are very close to 1 mm. thick, plastic joints and polyester confections used in flags, for this reason neither its structure nor its cover are designed to last. When can a custom cheap folding tent go well? In events of campaigns of very short duration, although we always advise a quality tent , since they are resistant folding tents, and if we try to sell a product or service the tent will be one of the main letters of presentation to our public, and remember: the image in this world is almost everything, more and more people are tired of typical mass products and low quality. For this and other reasons, let's not be short on investment, you will thank him eventually.
I have decided it, I want to buy my custom folding tent, how do I do it? Very easy, if your design is simple you can opt for the new exclusive modular customization of CarpaPro, entering the product of the online store, you can add the number of logos and skirts that you wish to personalize, as long as they adapt to your needs by proportions and sizes. If your design exceeds dimensions and you can not find the price with customization, write us and request a quote, indicating carp model, measurements, fabric color and how you want the design, number of skirts, waters / dome and walls with customization on the inside or outside.
In CarpaPro and SOLOCARPAS.COM we sell professional and personalized folding tents of quality, so that our clients can develop their projects and businesses based on commerce for markets or street markets, medieval or gastronomic, we are also experts in street marketing campaigns with tents folding with corporate design, to be able to advertise all kinds of products and services.