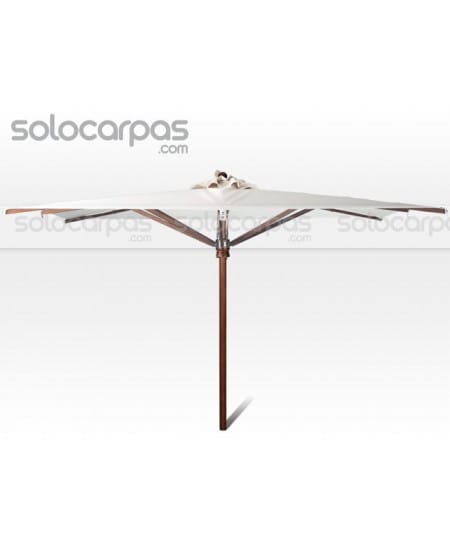 View larger
Puedes pagar tu compra con:
Parasol Rome
desde
780,00 €

tax excl.
tax excl.
New product
Precio por unidad
Production time 15 days
Wooden SunBreta® parasols series Rome of high quality, Acrylic fabric 300 gr/m², available in several colors.


Warning: Last items in stock!
Availability date:
Enable Follow
Wooden parasols Acrylic fabric series Rome
Wooden structure with outdoor treatment.

Available sizes: 3 m diameter circular, and 3.0 x 3.0 m and 4.0 x 4.0 m square.

Wooden pole Ø 58 mm.

Opening with a double high quality pulley.

8 alu ribs wood imitation finish measure 20 x 35 mm.

With fireplace off the air.

No flap (optional).

High quality Acrylic Fabric 300 gr / m² Colors Available: A1-A2-A3-A4-A5-A6.

Does not include base, buy it separately.
| | |
| --- | --- |
| Mast ø | 60 mm |
| Ribs Profile | 20 x 35 mm |
| Opening | by double pulley |
| Height personal pitch | 2.10 m |
| Mast length | 3.10 m |
| Number of ribs | 8 |
Sombrilla espectacular

Alejandro G. on 04/04/2018

Es abrirla y decir esto es una sombrilla en mayúsculas, estoy por comprarme otra, gracias por todo al equipo de solocarpas.com
Muy recomendado

Jose S. on 15/03/2018

Me costó decidirme pero al final me lancé. En cuanto a al parasol poco que añadir al resto de comentarios: abrirlo y ver un parasol de calidad de verdad. Sorprende lo grande que es cuando estas debajo. ¿Si recomendaría su compra? Sí
Parasol excelente

Sara M. on 07/10/2017

Excelente parasol a un precio calidad fabuloso,recomiendo su compra.
SIN DUDA UN PARASOL ESPECTACULAR

SERGIO C. on 24/04/2017

CALIDAD DEL PARASOL 10, ES OTRO MUNDO A LO QUE NORMALMENTE VES POR AHI, TEJIDO DE ALTA CALIDAD, MADERA IMPONENTE EN SUS GROSORES Y DETALLES, EXCELENTE SIN DUDA LES RECOMENDARE
Buena calidad y gran servicio post venta

José A. on 20/05/2016

Gran servicio post venta y facilidad, tuvimos un percance con una varilla de madera que se rompió al colgarse un niño del parasol, pudimos comprarla suelta y nos la enviaron en muy pocos días, excelente sin mas.
Estética elegante pero a la vez robusta

Marta H. on 01/05/2016

Muy bueno, de estética elegante y robusta, alta calidad tanto en la madera como de la cubierta, buscaba unos parasoles resistentes de madera (me parece más calida) para la restauración, pero sobretodo con un servicio post-venta de un proveedor nacional, el trato por parte de solocarpas.com muy bueno 100 recomendable, volveré a comprar
Parasoles de alta calidad

Rafael A. on 15/03/2016

Esta serie Roma de Sunbreta es un parasol de gama alta, es lo que buscaba cansado de comprar parasoles cada año que sólo me duraban una temporada, además el diseño hay que reconocer que no tiene nada que ver con un parasol low cost, me ha sorprendido el tejido que es de la misma calidad que el que tiene mi toldo corredero, varillas muy gruesas y se ven resistentes, compra acertada y con un precio más que razonable para la calidad que ofrece.
Buenos parasoles, envío cumpliendo plazo

Ana Isabel R. on 28/07/2015

Buenos parasoles, el perfil de las varillas de madera es muy grueso y de calidad, el mástil es de 60 mucho mejor que el típico standar de 40-50, donde he encontrado más diferencia de calidad es en el tejido que es acrilico como el de los toldos, nada que ver con el tejido típico de parasol de algodón o poliéster, buscaba un parasol de gama alta y de calidad y lo he encontrado, estoy muy contengo muy buen servicio, serios y recomendable.
Pequeño retraso en entrega pero todo resuelto

Juan Jose M. on 04/05/2014

Muy contento con el parasol, hubo un pequeño problema con el transporte que enseguida me resolvieron, encantado con la atención al cliente y el servicio.